Working...

Zalis Named Pearce Award Recipient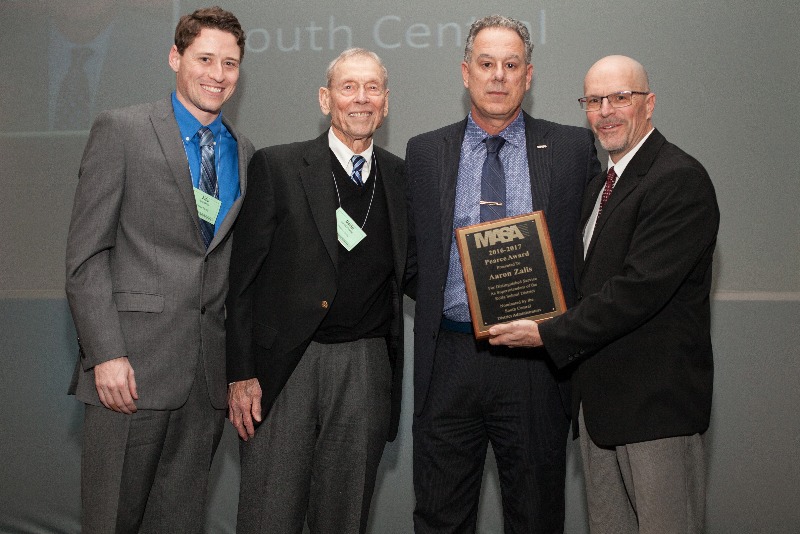 The Missouri Association of School Administrators (MASA) has selected Dr. Aaron Zalis as the recipient of the annual Robert L. Pearce Award for 2017. A committee of his peers selected Zalis. Each of the eight MASA districts nominated a superintendent for the award.
Dr. Zalis, Superintendent of Rolla 31 School District, received his Bachelor of Arts Degree from Culver-Stockton College. He attained his BS in Education and his Masters in Education from Truman State University. Zalis completed his Education Specialist in Administration Degree at Northwest Missouri State University and received his Doctor of Education in Education Leadership from St. Louis University.
Dr. Zalis began his administrative career as an Assistant Principal at Rolla Middle School. He later served as Rolla's Director of Human Resources, Assistant Superintendent for HR and Support Services, and Deputy Superintendent before taking the role of Superintendent in 2010.
Dr. Zalis has noted that his philosophy of education includes, "Having a clear vision, being internally and externally collaborative, and leading with high integrity." Zalis attributes much of his success, and the success of the Rolla Schools to great administrative and building leaders who put "students first."
Among Dr. Zalis's priorities is early childhood education. Under his leadership, Rolla Schools developed a new strategic plan in 2014. Central to that plan was expanding early childhood education. In 2015 the District passed a bond and levy that will provide much needed resources for early childhood as well to assist in reconfiguring grade-level facilities which will be implemented by 2017.
Dr. Zalis also has a history of leadership with his professional associations. Dr. Zalis is the current president of the Missouri Association of School Administrators (2016-2017) and a former Executive Board member (2013- 2016). Dr. Zalis served on MASA's Accreditation and Assessment Task Force, the "Better Schools for Missouri" political action committee and the MASA Ethics Committee.
Dr. Zalis has served three terms on the Public School Retirement System/Public Education Employee Retirement Board and is currently the President of the PSRS/PEERS Board.
Dr. Zalis is an active community leader and currently serves the Rolla Chamber of Commerce, the Rolla Regional Economic Commission, and the Rolla Area United Way (Board of Directors). Zalis is member of the Kiwanis Club of Rolla.
The Pearce Award includes a monetary award to the recipient and a scholarship for a student in the district of the award winner.
Zalis is the 31st recipient of the prestigious Robert L. Pearce Award.
Other 2017 Pearce Award Nominees, including their school districts and regions include:
Chris Gaines, Mehlville (Greater St. Louis)
John James, Mid-Buchanan R-V (Northwest)
Darryl Pannier, Nell Holcomb (Southeast)
Scott Patrick, Warrensburg (West Central)
Mark Penny, Lincoln County R-III (Troy) (Northeast)
Michael Reik, Platte County R-III (Greater Kansas City)
Brian Wilson, Hollister R-V (Southwest)