Working...

Stephen Kleinsmith Named Missouri Superintendent of the Year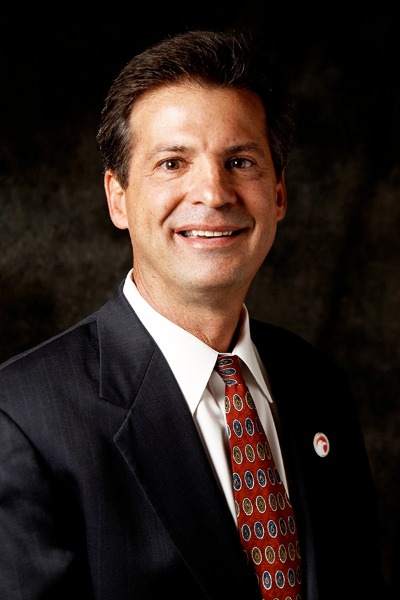 October 7, 2017
Stephen Kleinsmith Named Missouri Superintendent of the Year
Dr. Stephen Kleinsmith, Superintendent of Nixa Public Schools, has been named Superintendent of the Year by the Missouri Association of School Administrators during its annual fall conference held October 5-8, 2017, at Tan-Tar-A Resort, Osage Beach, Missouri.
MASA Executive Director, Doug Hayter, stated, "Dr. Kleinsmith is one of the most respected leaders in Missouri education. He is known for his professional demeanor and his willingness to address the important and often challenging aspects of public education. Most importantly, he has always been focused on what is best for students."
Dr. Kleinsmith will be recognized during the AASA National Conference on Education in Nashville in February for his state selection.
Dr. Kleinsmith is a proponent of early childhood education, and he has led the charge for improving early childhood special education services in Nixa. In 2014, the District began using an integrated style classroom, consisting of students qualified for special education working alongside typically developing role model students. Since that time Nixa has added six integrated early childhood special education classrooms serving an average of 264 students each year.
Communication is also a hallmark of Dr. Kleinsmith and the Nixa Public Schools. A central part of the district's strategic plan is communicating with their various audiences. Nixa Public Schools regularly communicates its Mission, Beliefs, Parameters, Objectives, and Strategies (both long and short term) with the community, parents, students, faculty, administrators and support staff. This is done through outreach opportunities such as Koffee with Kleinsmith, Chamber of Commerce, Principal
Advisory Councils, PTAs , civic organizations, the Senior Center and school board meetings.
Dr. Kleinsmith wrote in his application, "Our CSIP is action oriented. It is our mantra that what gets placed on the CSIP gets done. Goal setting is not enough, goal completion must be the aim of a strategic plan."
Dr. Kleinsmith has successfully built strong and trusting relationships with the Nixa community. Since 2000 the district has constructed a new high school, two new elementary schools, a new intermediate school, added onto the junior high and recently built high school.
Dr. Kleinsmith has noted that, "This trust that our community has in our school district is promoted by the way we have prioritized and selectively abandoned good ideas in favor of great ideas. Anyone can cut away the low hanging fruit. Saying no to good ideas to make room for great ideas takes courage."
Dr. Kleinsmith has served students in Missouri's public schools for 17 years. Prior to joining the Nixa Public Schools in 2000, Dr. Kleinsmith served as a principal at All Saints K-8 School, Omaha, Nebraska and as principal of Westwood Junior and Senior High School, Sloan, Iowa, and the Executive Director for Administrative Affairs for the Millard, Nebraska Public Schools.
About MASA
The Missouri Association of School Administrators is the statewide association of public school superintendents and central office administrators. MASA develops and supports effective public school leaders who positively impact the lives of Missouri students.